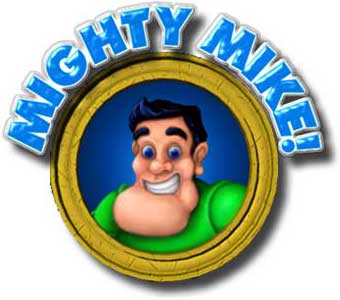 REGISTRATION
Mighty Mike costs only $9.99
Registering your copy of Mighty Mike will let you play all 15 levels of the game for an unrestricted amount of time. When played in the unregistered demo mode, Mighty Mike will only let you play the first 3 levels of the game and the demo will stop working after about an hour of play.

IMPORTANT: Do not register until you have downloaded the game and you are sure it runs on your system.

NOTE: DO NOT BUY MIGHTY MIKE UNTIL YOU HAVE TESTED IT ON YOUR MAC TO BE SURE IT WILL RUN!!! Mighty Mike requires Mac OS 9 to work, and it may not run properly in Classic mode on OS X, so try it first before you buy. The new Intel-based Macs do not have Classic mode, therefore, this game will run run at all on those Macs.




Serial Numbers for Bugdom used to be purchased through Kagi.com. Unfortunately, Kagi has stopped service, so while we find a new provider we are having to process purchases manually via PayPal.

Please send a PayPal payment of $9.99 to brian@pangeasoft.net

Once received we will manually send you a serial # for the game.

©2002 Pangea Software, Inc.
Mighty Mike is a trademark of Pangea Software, Inc.