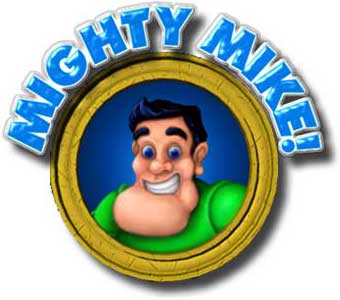 INFORMATION

Mighty Mike is the game formerly known as Power Pete which was originally published by MacPlay back in 1995. Now that we have re-acquired the rights to the game, we have decided to re-release it as shareware for only $15. To answer a commonly asked question: No, there are no cheap upgrades to Mighty Mike for owners of the original version of Power Pete. Heck, it's only $15!
Mighty Mike requires OS 9 to play. It might work in Classic mode on OS X, but it might not. You should download and test it out first before buying it to be sure it will run on your system. Mighty Mike will NOT RUN ON ANY INTEL-BASED MAC. It will only run on PowerPC Mac's.
The full version of Mighty Mike may be downloaded by clicking here. This copy of the game will play in a demo mode until you pay the shareware fee and are assigned a registration number. When you register the game, it will allow you to play all 15 levels. The demo will only let you play the first 3 levels and it will time bomb after about an hour of play.
For other questions, send email to brian@pangeasoft.net

©2000 Pangea Software, Inc.
Mighty Mike is a trademark of Pangea Software, Inc.